Nicole Pacapelli, a 2010 West Haven High School graduate, was named the women's soccer head coach at NCAA Division I Marist College on January 17, 2023. She is the first WHHS alum to become a Division I head coach in any sport.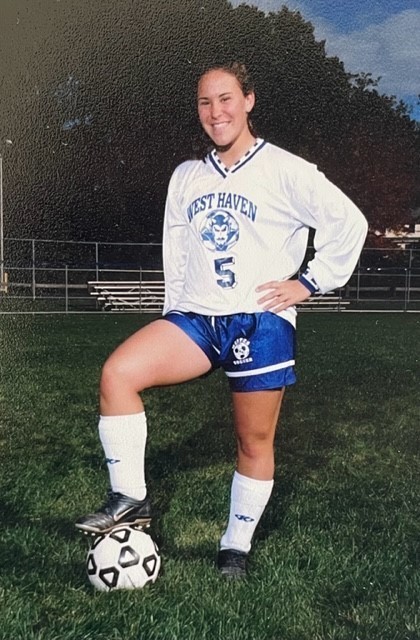 Nicole, who attended Seth Haley Elementary School, Bailey Middle School, and West Haven High School, was a four-sport student-athlete at WHHS in which she played soccer (team captain), basketball (team captain), lacrosse, and ran track. On the soccer field, she was recognized as a Connecticut Coaches All-State honoree in addition to numerous All-Area and All-SCC selections.
In addition to athletics, Nicole was also a Peer Advocate and DECA Vice President, while being involved in the yearbook committee, a grass roots action club, and the National Honor Society.
"WHHS allowed me to step into those roles without any real understanding of how to lead, but if it weren't for those opportunities, then I wouldn't have truly reflected and grown into the transformational leader that I strive to be today," said Nicole. "On the field, WHHS also taught me that I had to do more than what everyone else was doing, even if that meant bringing sets of cones on vacation with friends to get my sprints in."

She added, "West Haven High School prepared me to step out of my comfort zones and start to navigate what leadership looks like and what it takes to be a leader.
After graduating from WHHS in 2010, Nicole played her freshman season at Stonehill College before transferring to New Haven. While at UNH, Nicole served as a two-year captain appearing in 55 matches in three seasons. She concluded her career ranked in the top-20 in program history in scoring with 13 career goals and five assists.
Nicole helped guide the Chargers to a pair of Northeast-10 Championship appearances, including the team's first-ever NE-10 postseason win in 2013. As a senior, she was named an All-Northeast-10 Conference selection, NSCAA All-East Region, and NEWISA All-New England honoree.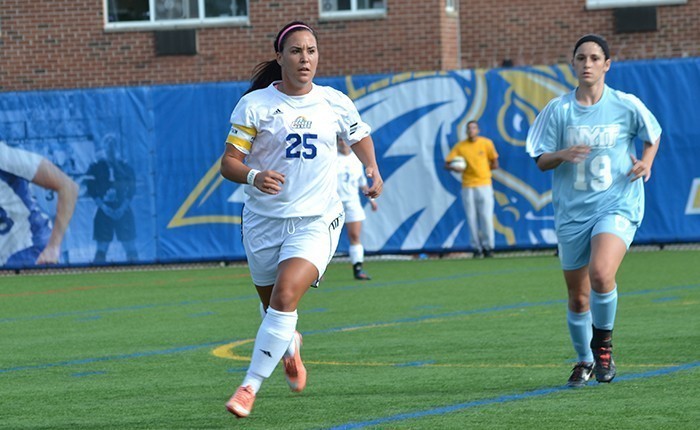 As for WHHS student-athletes who dream of playing in college, Nicole recommends "taking initiative to intentionally invest in your own recruiting process, do your homework to find the right-fit school and level for you. This is your process, and everyone's process is different, that is extremely important to understand.
"Playing at the college level takes another level of commitment that you have never experienced before. Be sure to have a growth-mindset, control the controllables, and strive for excellence as well as consistency each-and-every day. Work towards being the best version of yourself rather than always making it a competition with everyone else, that is something that I wish I learned back in high school."
After a successful playing career, Nicole graduated from UNH in 2014 with a degree in Nutrition and Dietetics as a Dean's List student and Northeast-10 Conference Commissioner's Honor Roll selection. Upon graduation, she remained at UNH as the program's lead assistant coach for two years while earning her MBA with a concentration in sports management.
Nicole's decision to coach at UNH, while attaining her MBA, stemmed from the great relationship she had built with head coach Laura Duncan (who was also her club soccer coach growing up). Coaching was never a goal for Nicole when she was younger. She had thoughts of becoming a doctor at one point as well as a science teacher after developing a love for the subject, which she credits to the amazing teachers she learned from in West Haven.
However, after fulfilling her life-long dream of playing soccer in college, Nicole's relationship with Duncan shined a new light on post-graduate plans. She realized how much of an impact a coach can have at the college level, and how much coaches are apart of your life every day, both on and off the field. Once she made that realization, she knew she wanted to coach.
After receiving her MBA in 2016, Nicole was named the head coach and the department's academic coordinator at Queens College. She served in that role for three years before accepting an assistant coaching position at the University of Richmond in 2019. From there, Nicole was named the assistant coach at Binghamton University where she enjoyed a successful three years.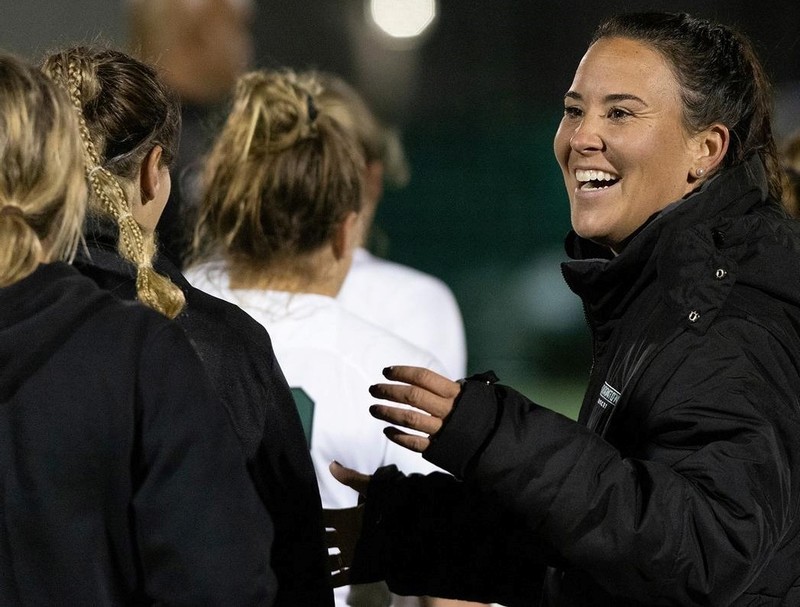 While at Binghamton, Nicole helped guide the Bearcats to a 14-5-3 (.705) record in the America East Conference and a 23-15-8 (.587) overall mark. The team won a share of its division title in the Spring of 2021, won the America East regular-season championship outright in 2022, and reached the conference championship match in the Spring of 2021 and 2022. These championship appearances marked the first for Binghamton, and in 2022, Nicole was a part of the America East Coaching Staff of the Year.
Additionally, Nicole holds a United States Soccer "C" coaching license and United Soccer Coaches National and Advanced National Diplomas. She was also selected to the United Soccer Coaches 2022 Coach Credentialing Cohort, was honored as a member of the 2021 United Soccer Coaches 30 Under 30 Class, and was chosen to the 2020 NCAA WeCoach Academy Class.
Marist's newest women's soccer head coach wants students, who are interested in coaching, to know a few things about the profession; coaching is hard, they need to understand what they are getting into, and it's important to love it.
"Coaching at the college level can be a 24-hour, 7-days a week job, that is how much endless work there is to be done, and it is up to you to try and set yourself some healthy work/life balance boundaries because it can consume you.
"There have been countless times where I have wanted to walk away from coaching because of how hard the grind was. I spent an entire year of my life as a "full-time" volunteer assistant working for free just to help myself climb the ladder. Most people see the glory in coaching, the game for itself without much of an understanding of all the rest, and I think that is important to realize."
Despite the grind of coaching, Nicole went on to say, "I have the best job in the world and to me, going to work every day is (mostly) fun."

---
NOTES:
Nicole's soccer journey began when she was five years old. Her first coaches were WHHS Athletic Director Joe Morrell and her father Gene Pacapelli.
WHHS teacher John Camara was her high school coach. John is also Nicole's uncle.
WHHS teacher Pete Trenchard gave Nicole her first coaching opportunity working Elite Soccer Camps and coaching the Purple Princesses.