Darryl "DMC" McDaniels, a founding member of the legendary hip-hop group Run-DMC, visited Bailey Middle School Tuesday morning to speak to 8th-grade students about the importance of school, ignoring bullies, and pushing through adversity.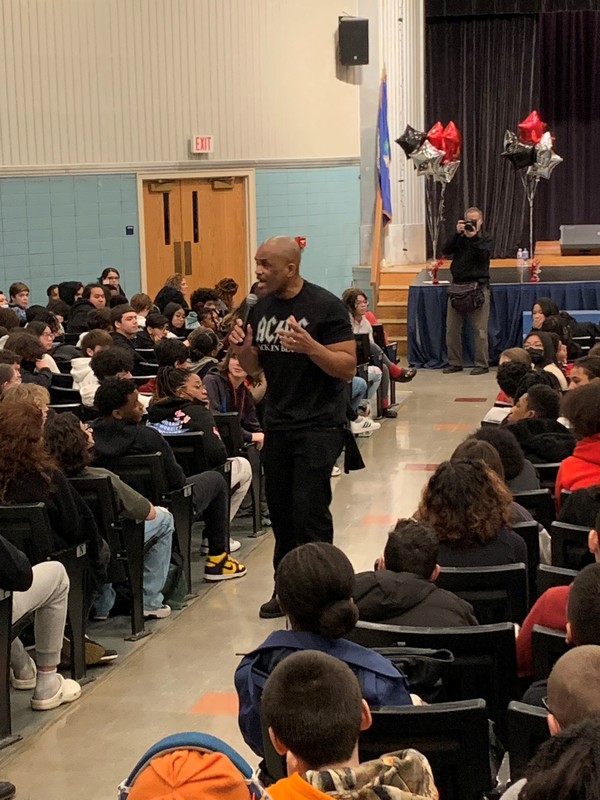 Darryl, who graciously drove from New York, spent more than two-and-a-half hours with Bailey students and staff. His visit started in the library where several students sat down with him and asked questions. Following the Q-&-A session, 7th-grader Alexander (AJ) Campos handed Darryl, an avid comic book fan, a comic book that he wrote and designed himself, and 8th-grader Mila Cruz handed him an incredible portrait of DMC that she hand-painted.
The small crowd then moved into a packed auditorium. Upon entering, stories and poems written by students about their favorite shoes, in a tribute to the hip-hop group's hit "My Adidas", covered the walls. Inside, 8th-grader Gabriel Fargas performed several Run-DMC songs using his father's DJ equipment. Darryl sat front row and listened while several students stood up and danced to the legendary hip-hop music.
Once the music stopped, West Haven Mayor Nancy Rossi took the stage to present Darryl a Citation. He then took the mic and spoke to students for over an hour. His powerful, motivating speech had a simple yet strong message, to consistently persevere through hard times in order to become great. He used examples from his own life and the struggles that he had to overcome. Additionally, throughout his speech, Darryl made it a point to tell students they shouldn't be afraid to seek help and talk to someone if they are experiencing hardships in life.
"The assembly held today by DMC was powerful and timely for our students," said Rosanne Ferraro, an 8th Grade English Language Arts Teacher. "Darryl spoke of loving oneself, the value of education, working hard, and celebrating one other by building each other up rather than knocking each other down." She added, "the time spent with Darryl McDaniels this morning was gratefully appreciated by students and staff alike."
Darryl's visit comes a year after he published a children's book titled 'Darryl's Dream' about a quiet third grader with big hopes and dreams. The story is about finding confidence, facing bullies, and celebrating yourself, which was the main message behind Tuesday's speech.
Darryl chose to come to Bailey Middle School after meeting Michelle Caprio, a Community Activist and lifelong Westie, at an event in November for his charity, The Felix Organization. The hip-hop legend asked how he could help Michelle, who aspires to start a non-profit herself, and he graciously offered to make the trip to West Haven. Following the speech, Michelle could hear students saying they need to be nicer and kinder.
Run-DMC was founded in 1983 by McDaniels (DMC), Jason Mizell (Jam Master Jay), and Joseph Simmons (Run). They are regarded as one of the most influential acts in the history of hip-hop culture, and one of the most famous hip-hop acts of the 1980's.
---
Media Coverage: